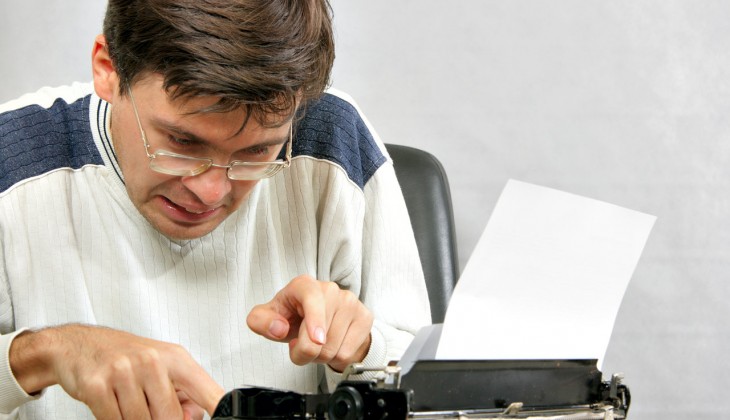 Who were the top earning authors of 2013? Some of the names on the list came as no surprise, while a few others just might shock you.
1. E. L. James – $95 Million
Originally written as a "Twilight" tribute titled "Master of the Universe," "Fifty Shades of Grey" soared straight to the top of every best-seller list. The e-book format was wildly popular, filling up the Kindles of suburban moms across the country. Former tv executive, wife, and mother of two, this mom who writes from the suburbs of West London is hauling the money to the bank in wheelbarrows.
2. James Patterson – $91 Million
James Patterson is always at the top of the list of writers who make the moolah. Reportedly, one out of every 17 hardcover novels sold in the U.S. has his name on the cover, and with his "Maximum Ride" and "Witch and Wizard" series he is gaining ground in the young adult market. Not bad for a guy who struggled to sell his first novel, The Thomas Berryman Number in 1976. Initially, that novel sold about 10,000 copies. Patterson published his breakout book, "Along Came A Spider," in 1993. Since then, according to his website, Patterson has written over 100 books. Many of his readers and peers have complained because Patterson uses "co-authors" to produce so many books. Apparently, it's not hurting sales.
3. Suzanne Collins – $55 Million
The release of the first "The Hunger Games" film, starring it-girl Jennifer Lawrence, helped launch Collins into the stratosphere. A former children's television writer (writing for several Nickelodeon shows, including the Emmy-nominated Clarissa Explains It All and The Mystery Files of Shelby Woo), she's also the author of the five-book series "The Underland Chronicles." Suzanne lives in Connecticut with her family, a couple of cats, and a large bank account.
4. Bill O'Reilly – $28 Million
Bill O'Reilly? Best known for the O' Reilly Factor on Fox television, with the publication of "Killing Lincoln: The Shocking Assassination that Changed America Forever," book writing may became more than a sideline for the Fox News host. After the publication of the follow-up book "Killing Kennedy," he enjoyed the No. 1 and No. 2 slots on the New York Times hardcover non-fiction best-sellers list. The next book in the series, "Killing Jesus," also became an instant bestseller.
5. Danielle Steel – $26 Million
Since publishing her first novel in 1973 entitled Going Home, Steel has published 128 books, and those books have been sold in 69 countries and translated into 43 languages. Reportedly, she has sold over 600 million copies. Most have been romances, but she's also written children's books, nonfiction and poetry. Her latest novel is entitled Winners. Arguably, the queen of the romance novel, Steel has been married five times.
6. Jeff Kinney – $24 Million
Written for children and younger adolescents, Kinney's "Diary of a Wimpy Kid" series has generated eight installments and three theatrical films. "The Third Wheel" sold more than 1.4 million copies last year. Kinney came up with the idea for Diary of a Wimpy Kid in 1998. He reportedly worked on the a story about a middle-school boy named Greg Heffley for almost six years before publishing it online on Funbrain.com in daily installments. The online version of Diary of a Wimpy Kid went on to receive more than 80 million visits, and is now read by more than 70,000 kids a day. In 2006, Kinney signed a multi-book deal with publisher Harry N. Abrams, Inc. to turn Diary of a Wimpy Kid into a series of books. When the first book was released in April of 2007, it quickly became a New York Times bestseller.
7. Janet Evanovich – $24 Million
The latest installment in her Stephanie Plum detective series, Takedown Twenty, was published in 2013. Evanovich began writing romance novels, "but after twelve romance novels I ran out of sexual positions and decided to move into the mystery genre." Not long after, her family was running the business. Her son handles financial matters, her daughter takes care of the website, and her husband manages it all. This allows Janet to concentrate on the writing from her home in New Hampshire. With all of these sales, Evanovich has plenty of money to spend on her favorite snack – Cheeze Doodles. Be sure to check out her bio on her website – it's hilarious.
8. Nora Roberts – $23 Million
Writing as both Nora Roberts and J.D. Robb, Roberts has mastered two genres (romance and suspense) and sold millions of books. Under Nora Roberts, Dark Witch was released in 2013. Under J.D. Robb, she released Mirror, Mirror. Her writing career began during a blizzard in February 1979. Snowed in with a three and six-year-old she pulled out a pencil and notebook and began to write a love story. Several manuscripts and rejections later, her first book, Irish Thoroughbred, was published by Silhouette in 1981. Since then, she started writing as J.D. Robb and found a whole new audience for her suspense novels. She lives in Maryland and spends her spare time remodeling her home and gardening. She writes eight hours a day – every day.
9. Dan Brown – $22 Million
"Inferno", Brown's third novel about the on going adventures of Robert Langdon, was the best-selling book for the first half of 2013, moving 369,000 copies, following up its predecessors, "The Da Vinci Code" and "The Lost Symbol." Dan Brown's books have been translated into 52 languages and have sold over 200 million copies – not bad considering he has only published five novels. The son of a mathematics teacher and a church organist, Brown developed an early fascination with the relationship between science and religion. These themes eventually formed the backdrop for his bestselling novels. The Da Vinci Code series inspired the movies starring Tom Hanks.
10. Stephen King – $20 Million
Receiving even more attention after CBS created a series based on his Under the Dome novels, and the release of a long-awaited follow-up to "The Shining" titled Doctor Sleep was released in late 2013, Stephen King is always at the top of the bestseller list. King recently received some unwanted attention after tweeting about Dylan Farrow's allegations that her father, Woody Allen, sexually abused her during childhood. On February 3, 2014, in response to a follower's question, King tweeted, "@marykarrlit Boy, I'm stumped on that one. I don't like to think it's true, and there's an element of palpable bitchery there, but…". A newbie to Twitter, King quickly back-peddled, deleting his post and tweeting later, "Have no opinion on the accusations; hope they're not true. Probably used the wrong word" and "Still learning my way around this thing. Mercy, please." King later gave a more in-depth apology on his blog. Obviously, this was a nightmare for King – perhaps inspiration for a new novel about the horrors of social media?
11. Dean Koontz – $20 Million
Koontz has sold more than 450 million books. His latest novel, Innocence: A Novel, was released in December of 2013. Like most writers, Koontz got an early start, winning an Atlantic Monthly fiction competition when he was a senior in college. He kept writing and has not looked back. Koontz began writing part-time while teaching English in Pennsylvania. He wrote nights and weekends until his wife Gerda made him an offer. She told him, "I'll support you for five years, and if you can't make it as a writer in that time, you'll never make it." At the end of those five years, Gerda quit her job to run the business side of her husband's writing career. His books are published in 38 languages and he has sold over 450 million copies to date. We love Gerda.
12. John Grisham – $18 Million
"The Racketeer," Grisham's 18th novel was the second-best-selling hardcover novel of 2012. His next, "Sycamore Row,"  a sequel to his first novel, A Time to Kill, was released in October 2013. Grisham wrote A Time to Kill while working full time practicing law in Mississippi. Getting up at 5 a.m. every day write before work, Grisham spent three years on A Time to Kill and finished it in 1987. Initially rejected by many publishers (boy, are they sorry now!), it was eventually bought by Wynwood Press, who gave it a modest 5,000 copy printing and published it in June 1988. Grisham's second novel, The Firm was bought by Paramount Pictures for $600,000. The movie starred Tom Cruise and the book spent 47 weeks on the The New York Times bestseller list, becoming the best selling novel of 1991.
13. David Baldacci – $15 Million
Like John Grisham, Baldacci was a lawyer before he started writing novels full time. He's now published 26 of them, all of them bestsellers. His latest novel is entitled King and Maxwell (King & Maxwell). Baldacci's first novel, Absolute Power, was made into a movie starring Clint Eastwood and Gene Hackman. The novel went on to become an international bestseller, making Baldacci an "overnight" success. During a Q & A with Bob Levey of The Washington Post, Baldacci once said, "I wrote for fifteen years and earned nothing but a room full of rejections…I was an overnight success after 6000 nights." His novels have been translated into more than 45 languages and sold in more than 80 countries. He has reportedly sold over 110 million copies.
14. Rick Riordan – $14 Million
Rick Riordan started writing part time while teaching English and History. He began writing the award-winning Tres Navarre mystery series for adults. Riordan then turned to writing for children after writing the first of the Percy Jackson and The Olympians series – The Lightning Thief (Percy Jackson and the Olympians, Book 1), for his oldest son. His The Heroes of Olympus series is wildly popular. Riordan lives in Boston with his wife and two sons.
15. J.K. Rowling – $13 Million
After writing the insanely successful Harry Potter novels, Rowling followed with "The Cuckoo's Calling" (published under the pen name Robert Galbraith) which topped the hardcover best-sellers list and "The Casual Vacancy", also a bestseller. Rowling started writing the Harry Potter series during a delayed Manchester to London train journey, and during the next five years, outlined the plots for each book and began writing the first novel. After the books were published, Rowling went from near poverty to outrageous wealth. While her most recent novels for adults have not received the same reader acclaim as the Harry Potter novels, we don't think J. K. Rowlings is losing any sleep. And, we'd bet she is sleeping on some mighty fine sheets.
16. George R. R. Martin – $12 Million
The HBO adaptation of "A Game of Thrones" made Martin a household name. Of all the writers in our list, Martin may have sold his stories at the earliest age. Born in New Jersey, Martin sold monster stories to other kids in the neighborhood for pennies. At the age of 21, he began writing professionally, writing science fiction and short stories. Working in a variety of endeavors, including television, Martin published the first installment of the Game of Thrones in 1996. Martin is much-loved by his fans and often attends science fiction and comics conventions.